Beatport's got a sale going on, so I was asked to put some recommendations up here. Basically I just got a lot of stuff that's been filling up my hold box there.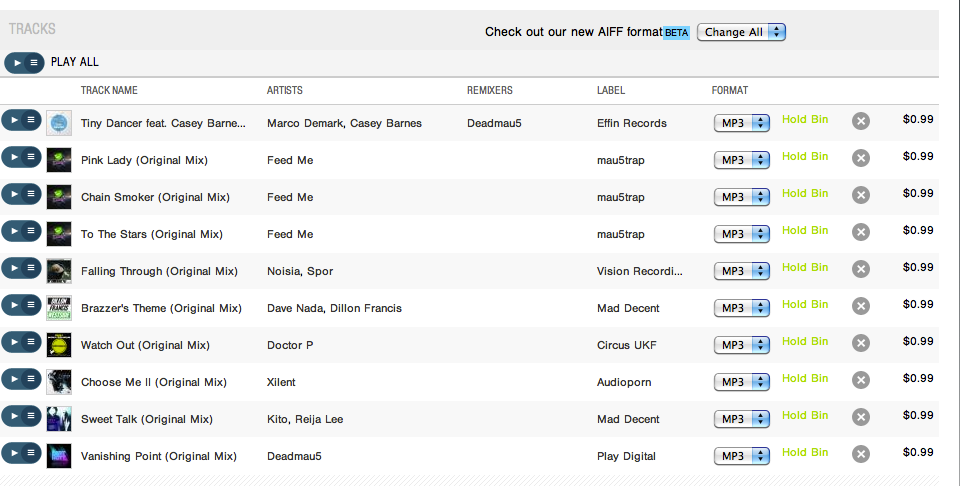 That was just my cart; a lot of leap of faths and a few things I've been meaning to pick up properly for a while now.
RECCOMENDATIONS
Everything I bought above is really good. :D
Dovergrubben (Zedd)
The Legend of Zelda (Zedd)
Autonomy (Zedd)
(Zedd's brand of electro house really makes me happy.)
To The Stars EP (Feed Me)
Feed Me's Big Adventure EP (Feed Me)
(The entire To the Stars EP is a good indication of Feed Me's stuff. One really glitchy electro, one really glitchy dubstep with weird vocals, one nigh-Moombahton track, one more house-y thing. I don't know
why
Jon Gooch decides to release half of his stuff as Feed Me and half as Spor, but, uh, I'm not really complaining. Speaking of Spor...)
Pacifica EP - Spor
Firepower - Datsik
Illmerica - Wolfgang Gartner
Space Junk - Wolfgang Gartner
Menage a Trois - Wolfgang Gartner
Boombox (Datsik Remix) - Bassnectar
Everyday - Rusko
Woo Boost - Rusko
Say My Name - Porter Robinson
I'm On Fire - Porter Robinson
Magic Trooper - Mord Fustang
Super Meat Freeze - Mord Fustang
A New World - Mord Fustang
Southpaw - Datsik
11h30 - Danger
4h30 - Danger
7h46 - Danger
Cry (Just a Little) - Bingo Players
(I'm gonna try to only list the weird deadmau5 stuff that's great but nobody has)
Raise Your Weapon (Madeon Extended Mix) - Deadmau5
HR8938 Cephei - Deadmau5
We Fail - Deadmau5
Bye Friend - Deadmau5
The Longest Road (Deadmau5 Remix) - Morgan Page
The Reward is More Cheese - Deadmau5
I'm Not Alone (Deadmau5 Remix) - Calvin Harris (I Think?)
Jaded - Deadmau5
yup.